A Reliable Payroll Foundation Builds Lasting Trust
TruPay's payroll module within the InspireHCM platform continually processes payroll in real-time, meaning it's ready at the click of a button. Complete automation streamlines payroll processing to reduce errors and ease your administrative burden. This powerful, easy-to-use payroll module simplifies processes, eliminates errors, and provides a best-in-class employee experience.
Our versatile pay rules engine makes it simple to determine pay associated with regular or overtime hours. It can support any number of scenarios —shift differentials, order of importance, location, and more — to accommodate your business requirements.
Learn More About InspireHCM Payroll & Beyond
With InspireHCM Payroll Employers Can...
INCREASE EFFICIENCY with configurable workflows and customizable notifications and alerts
DRIVE ACCURACY of employee withholdings with automated tax table updates
DELIVER INSIGHT with real-time, highly configurable, ad-hoc reporting— standard prebuilt reports included
EMPOWER EMPLOYEES with a mobile app and self-service tools that reduce administrative tasks
See the Full Capability of
InspireHCM
Payroll
See the full capability of InspireHCM payroll and download our payroll feature list.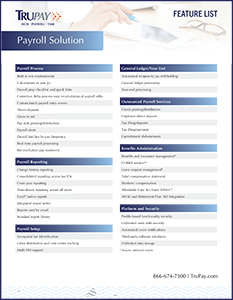 Paycards
Another way to do paperless payroll
Paycards are a great way to ensure payroll is disbursed while adding convenience for all. Plus, our solution integrates with a mobile app to add even more value for you and your employees.
Ready to register? Click here to get started.
Expand the Power of Payroll With...
Tax Management
The use of quarterly updates from thousands of federal, state, and local codes aids in the management of your compliance across multiple tax types and jurisdictions. Computation and filing errors are avoided by factoring in requirements for multi-state taxing and reciprocity, taxation wage accumulation, and withholding. Coupled with our tax services that could replenish your cash flow with unclaimed incentives, TruPay's tax service offers the great value you can trust.

Workers' Compensation
Our solution is integrated with payroll, eliminating any time-consuming administration. How about a pay-as-you-go method? Pay premiums based on actual payroll data, with no required up-front deposits and no audit adjustments. What's more, TruPay partners with A+ rated insurance carriers, so you get competitive rates with peace of mind and reliability.

Wage Garnishment
This service will assist with the day-to-day tasks tied to wage garnishments and assure compliance with garnishment orders. We ensure all garnishment details have been promptly and accurately addressed. The TruPay Wage and Garnishment Team is prepared to assume full liability.